You read the title to the tune of the 12 days of Christmas right?!?
When we moved into the fifth wheel and onto our new property we brought with us a small flock of laying hens. Three of the ladies were a year and a half old and three were old.??
We were at the stage where we should cull the older birds and bring in some young ones. However, they fairly consistently laid 3-5 eggs a week and honestly we just couldn't see adding any more tasks to our plate. So we just kept going with flock we had. Egg production slowed down during winter, as expected, and then picked back up as it warmed up. This summer we lost two birds to extreme heat and one to a predator.
We were down to three hens. Two that were still laying and one that needs to go. What's more,the boys had finally saved up funds to purchase replacement juvenile hens!
Now in the past we have always purchased gold or red sex links from someone local with great results. We got birds that were bred to be outstanding layers and we bought them as juveniles which means they came home to us ready to lay. Which is so convenient.
However, this time around we had slightly different goals. We wanted a breed that lays well, but carries a bit more meat, also known as dual purpose.
So we researched.
We want a rooster sometime in the near future and we like the idea of having hens hatch out chicks! Sustainability yay! So breeds with good brooding (mothering) instincts are desired.
It gets hot in the Texas Hill Country so heat tolerant breeds are a must on the Homeplace.
After much searching and discussion we choose to order six juvenile buff Orpington hens from a hatchery.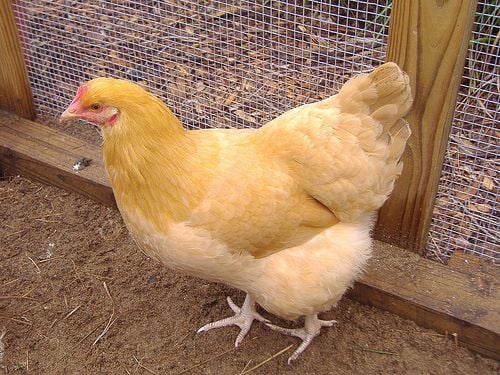 We chose juvenile birds because it means that they will begin laying within weeks of their arrival and because fall for us means whitetail deer hunting season (and processing) and a variety of weather (meaning 85 degrees F one day and 28 degrees F the next.) We did not want to be nurturing baby chicks along in the midst of this AND the usual busy-ness of our life. Plus, this Mama hates buying eggs from the store.
We received an email from the hatchery stating that the hens would arrive the week of October 29. We fixed up their new home and waited with excitement Monday and Tuesday for a call from the post office saying the chickens were ready for pick up. Halloween day dawned dreary and grey. We continued about school and our regular activities concerned that the evenings Trunk or Treat plans might be disrupted by rain. Two hours before Trunk or Treat setup time (that would be 3pm with no rain or calls from the post office) we donned our costumes loaded our trunk decorating supplies and head off to run some errands before the festivities. As we were pulling out of the drive it began to rain. By the time we had completed two errand stops it was pouring. That's when we got the call.  " Mrs. Cummings, we have some birds for you." Ugh!
So we hurried to the post office picked up our little paper crates of chickens (so cute) and then dashed home to change out of our costumes and into work clothes which would become SOAKED as we held an umbrella and carefully welcomed the ladies to their new home  and set out feed and water and then carefully closed them into the coop for the night.
Now it was time to dry off, throw the costumes again and head off to Trunk or Treat!
As you can see there were no trunks involved in this Trunk or Treat. The rain sent us all inside, but everyone still got their fill of candy and fun!
All in all, it was a wild but fun evening! Come to think of it that is an apt description for much of our time here at the Homeplace!
Look for a special DIY post very soon detailing all of the modifications we made to the new chicken coop as well as our new feeding and grazing plans!